zomg... it's been so long since i posted about sewing... i've been doing a lot of alterations for friends, no planned projects as of late... but i eeked out a new one for project restyle!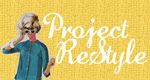 we moved to a new apartment and my sewing room is now in the basement. and although, it's a lovely room, it's in the basement... outta sight, outta mind...
however, here in chicago, it's summer and i realized i didn't have much in the way of summer wear... and my pocketbook has been feeling a little thin as well... i ended up cutting up some XL tees into sleeveless tops to wear to my hip hop class... and then, after perusing
generation T
- i got the idea in my head to copy a dance skirt i have w/ tees for hot nights at
swing at fizz
.
i wasn't sure what i was looking for, but i realized that alot of the colors of the tees weren't going to match.... and then i came across these two tie dye shirts... although i was looking for XLs - one was a S and the other was a M. they we're $1.80 ea. i measured them and it turned out that they would fit my hips just fine:
the fronts had a hideous sports club screen print on it, but i figure that that portion could be hidden when i made that section into the waistband (turned inside out)....
i also bought a new
south pole tee
for $4 to go with the skirt...
or i suppose i could use it as a beach cover:
i don't have a tutorial for you, but it's pretty straightforward...
* i measured up about 11" from the bottom of each tee - that made up the gathered portion of the skirt.
* the hip portion was 10" or 11" as well (top to bottom) - the backs of both tees sewn together.
* i used a 1" wide elastic, so the waistband was about 3" wide - the fronts of both tees sewn together - inside out, so the print was inside the waistband.
ennyhoo... thanks for reading! hope you're enjoying a lovely wednesday - and much much cooler than
here in chicago
...