another
finished project for project restyle?? crazy, i know... :)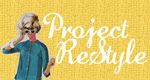 the backstory: two (lindy hop dancing) friends are leaving chicago. *SOB* *sniffles*
so, i felt like i should make something instead of incessantly boo hooing... and i make cute bunnies: see
here
and
here
and my very close friends call me
bunny
and one of my fave children's books is
little bunny on the move
- about a bunny, on the move, determined to find/go home. :')
ennyhoo... every once in a while i see 80s kid's bedding at the thrift store... i was hoping to find some
rainbow brite
print - cuz that woulda been HILARIOUS... this was the closest i got - a kid's pj top:
which was a super soft rainbow and stars print knit... :) and i had this other fabric scrap at home - and the blues/lavenders actually matched... win!
and... here are the finished bunnies (click to enlarge) - the clouds/rainbow bunny will be travelling to singapore and the yellow kitten print bunny will be journeying to nyc. :'(
i gave the bunnies & said goodbye to my friends on monday. and although i know they're moving on to new and exciting chapters in their lives - i felt really empty afterward. :( but seeing and writing about the bunnies again kinda makes me feel better today... clearly, i made them for me and not just my dear friends...
thanks for coming by and reading... hope you had a lovely wednesday!!