sooo... i've been slacking off on the sewing (and doing a fair amt. of fiction writing) for a while and boy howdy is that gonna bite me in the *ss - paloma's first communion dress is still awol... she is not amused... O_o
i did manage to eek out a project for project restyle though! :)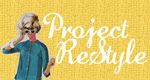 this time i had two sweaters. the patterned sweater never fit me right, the empire seam hit me too high on the bust... yeah. patternmaking fail... the ribbed turtleneck is one of my favorite sweaters EVAR... i was sad to cut it, but the turtleneck color faded and lost some elasticity too... :(
ennyhoo... i've been watching a LOT of korean dramas lately... i need an intervention frankly... and i LOVE all the beautiful scarves that these stylists put on their actors... seeing my lump of sweaters on my table kinda reminded me of them.... ergo:
i still have the tops of the sweaters that i may or may not make into shrugs or legwarmers.... jury is still out... :)
right after i sewed the scarf up, i looked out my sunny window and thought "ooo, a scarf! just in time for this 60 degree day." *facepalm*
however, lucky for me, it might (might) hit 40 today in chicago... and we're even expecting snow showers in the evening... *facepalm*
happy wednesday! thanks for coming by!