i finally got a bike to replace the one that was stolen last summer! WOOT! :)
i saw a bunch of new bike helmets too... and i was coveting... but i decided to stick with the one i've had for 15+ years (*facepalm* i'm ancient)...
back in college, i'd bought a bunch of
sailor moon
stickers and put them all over the helmet... needless to say they didn't last as long as the helmet, which is still in good shape...
as you can see, i pried them off and most of the sticker residue, only to find that they'd left "tan lines" on the helmet... wasn't sure what to do... my friend paul made
this awesome disco bike helmet
. and i found these cool handpainted bike helmets at
belle helmets
and
captain blueberry etsy shop
. but i'm not remotely THAT talented w/ power tools or acrylics... :)
so.... i found some koi fish clip art and started sketching on the helmet with a dry erase marker... then, i used a sharpie to make everything permanent... added the stippling... and voici:
my vastly improved, restyled, one of a kind helmet!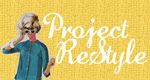 thanks for coming by! happy monday!