woot! another upcycled tee for project restyle! :)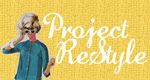 so, a friend of mine, *cough
nuprinz
cough*, asked me to upcycle a XXL tee she has. wasn't sure what to do but after a little research found
this adorable upcycled tee from MADE
. clearly, i'll have to make one of these for paloma.
well, i didn't want to go cutting my friend's tee w/o mocking something up and getting her thumbs up first... so.... to the batcave (donation store) i went...
and found these two tees... one was an adult XL and the other a kids M:
for the most part, i followed MADE's
instructions
...
and voici!
i think the only thing i'd do differently is beef up the width of the yoke/bow... i really wasn't thinking at all and made it 3" wide... (duh) instead of 5" or 6" wide... and i'd shorten the length (of the bow) as well... but, i really like how this one turned out... hopefully, i'll get the green light to make that dress.
ennyhoo... thanks for coming by and reading... hope you had a productive monday! :)